edit - this post has been updated as of 21nov, check it
Where do I start this mess...Well, I guess right here would be a good start,
As I was scrolling through internet forums about 2 months back I came across a post stating
"New Zealand" trip, so I responded to it, and found out that Billy was planing a trip to New Zealand
and was after a guide kinda thing, and this is where my idiodic niceness put my hand up and said
'yeah sure...why not!' But I'm kinda glad I did now.
My trip started on Thursday the 10th of November, where, right after being fired from work I started my trek to
Auckland in the red beast.
I Arrived in Auckland and then hit AKL traffic, 100 kilometer per hour speed limit and I was
hitting a top speed of 10 when I was lucky
One handed photo taking madness.
After I finnaly got through traffic I got to Vic park where it was packed out,
Lots of people showed up, a good 25ish riders were their shreding.
I more a less chilled and tried to snake as little people as possible.
From here I headed to Lukes place for the night, where we watched SuperSize me with the folks
and myspaced it.
Next morning, wake up at 6am to pick up Billy from the airport at 730am...
So guess what, his plane was delayed...so at about 10:30am we leave the airport with one very tired..well not so tired
American chilling in the back seat sporting a gnarly beard.
We headed straight to Vic park where Moffat was meeting us, Liam Stewart was also there riding/sweating.
From Vic park we headed to Birkenhead park I belive, which was a bit of fun if anything.
Then to devonport, where Billy somehow managed to jump and land in the over-vert piece...accidental madness is the best.
Then we headed over to George & Louis' house to see where dem nig's were at, after about 10mins of waiting there Louis arrived
and we packed our shit and got going back to Vic park . . .where once again, there were quite a number of riders..a fun session
went down.
Next day we woke up at George & Louis' house and proceeded to get our shit together and make our way to Lynnfield bowl,
for those of you who don't know where/what this is, its the Bowl that Mr. Manconi no foot-toothpicks in the T-1 video.
Actully, heres a picture of it for youuu: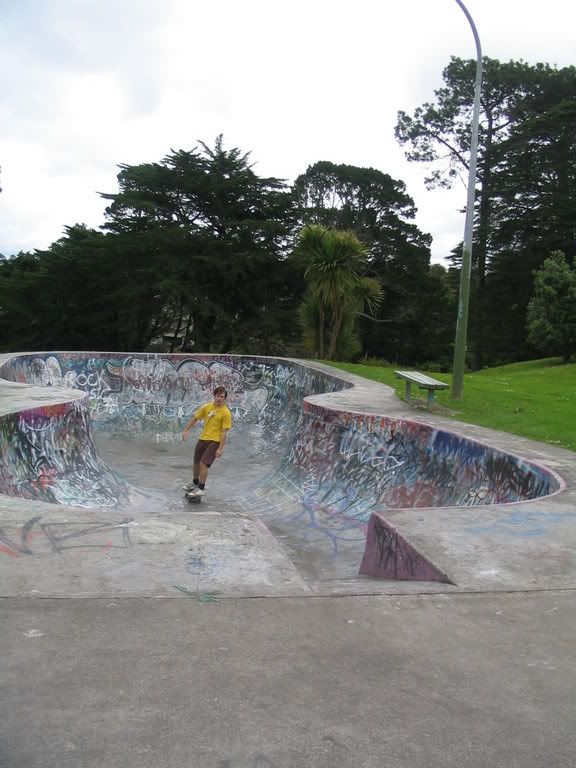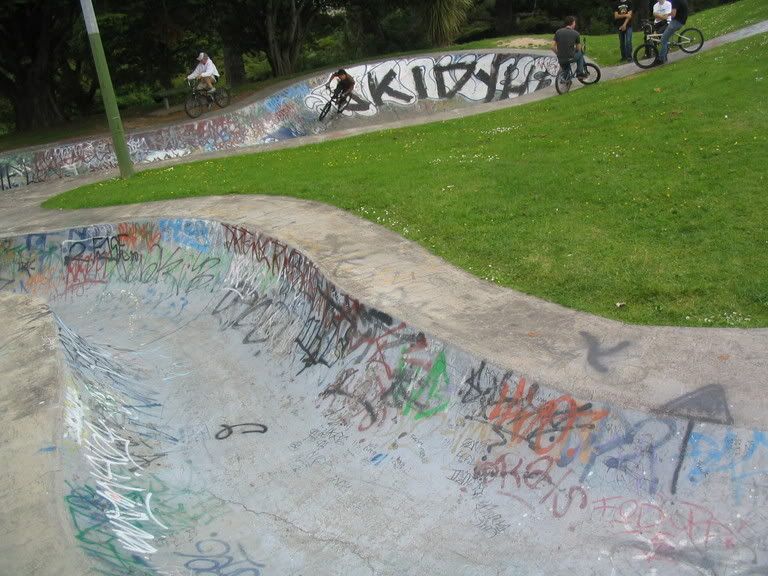 Some good riding went down here, and it was my first experince with this place...and boy oh boy was it an interesting one.
We then headed to the New Lynn snakerun/bowl thinger, the place with the 'fullpipe' This place is crazy and is always good for a bit of
a carve around here and there.
Now, I'm kind of at a loss as to where we went next, but I'm pretty sure it was a huge hike out of Auckland to the so called
'sticks' or plain out 'where-the-fuck-are-we' area of City...where we rode at some pretty fun trails, well, they looked fun anyway
and by the sounds of things they have big plans for them, and judging by the amount of pep's riding around it won't be long untill
they get exactly what they want there.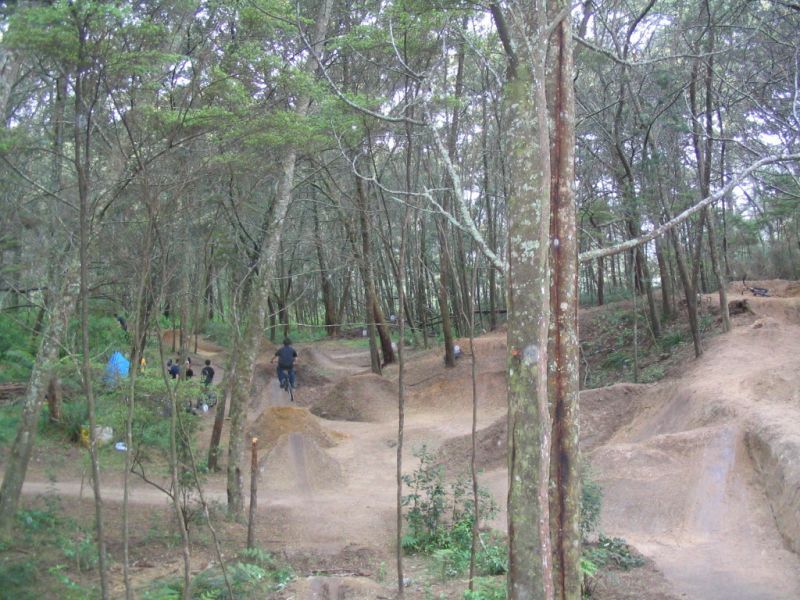 Trails from the top of the roll-in.
These trails pictures were taken either on Saturday or Sunday, but no dout Sunday.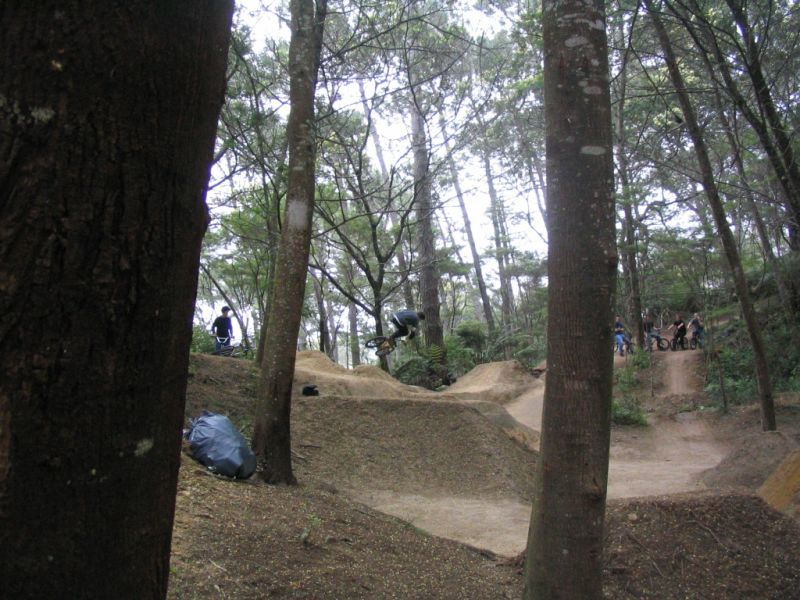 George, Downside whip on the dirt quarter.
Mark/eWok! - Seat Grab madness
Mark, with a very english Turndown.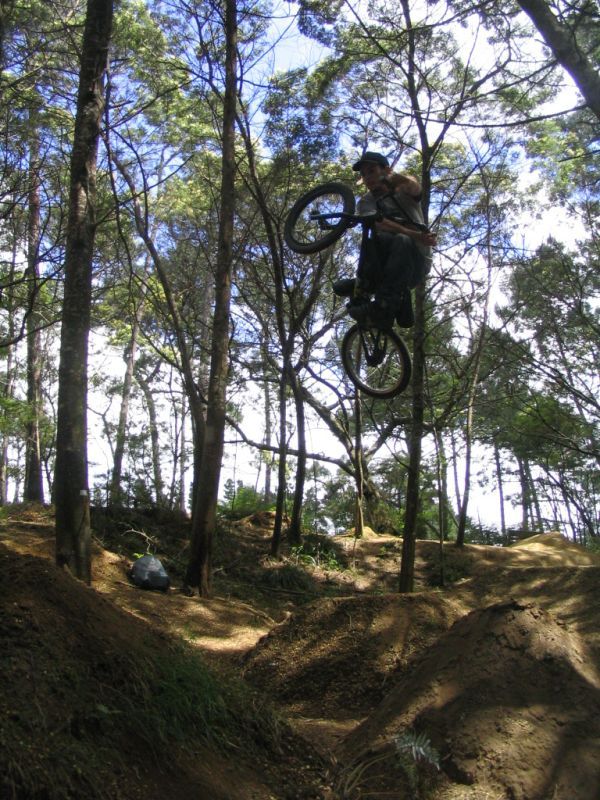 Mike, Tabletop I guess you could call this thing?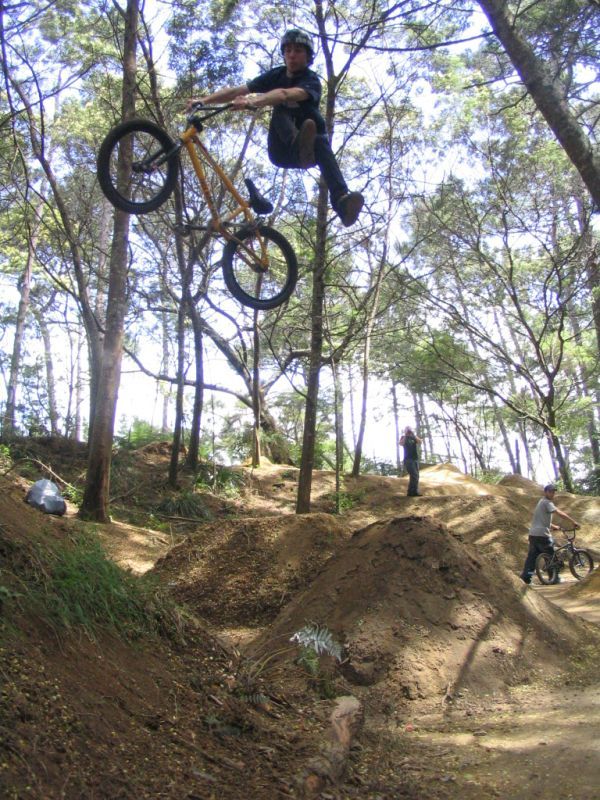 George, No Foot Can...You ain't got nothing on Adam.
From here we drove for a bit, stopped at this Hugley large Shopping centre/mall/city thing, I think it was Bontanty or some shit.
Then the word on the street was that Mike & Aaron were having a bit of a hoe down at their house, so we pulled in for a quick
ride to sort out what was going on, a quick ride turned into about a hour long ride with lots of stuff coming outa the bag.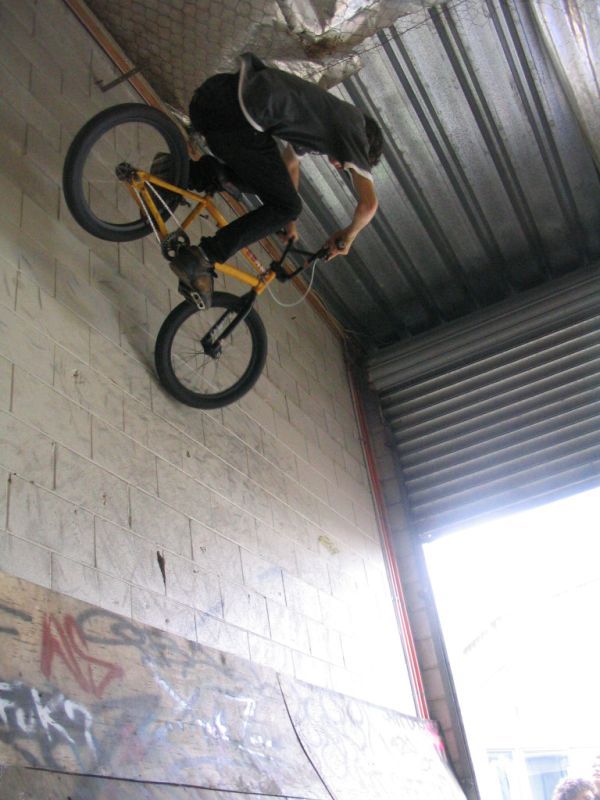 George, Air/wallride thing on the quarter/vert wall.
Manconi, Dave, Manual the Sub, he stalled this out for about 30seconds before dropping in...insane in the membrane.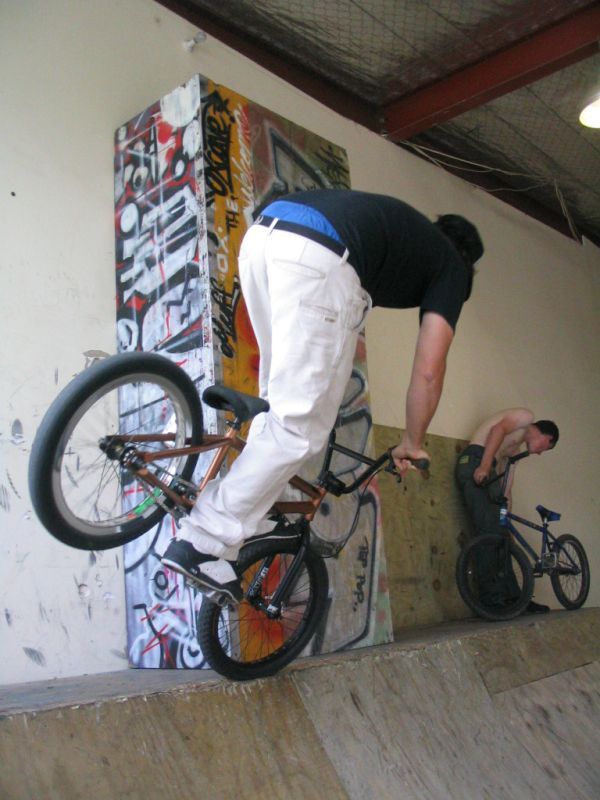 Joel, Footjam Nosepick . . .footjam doesn't sound to scrummy.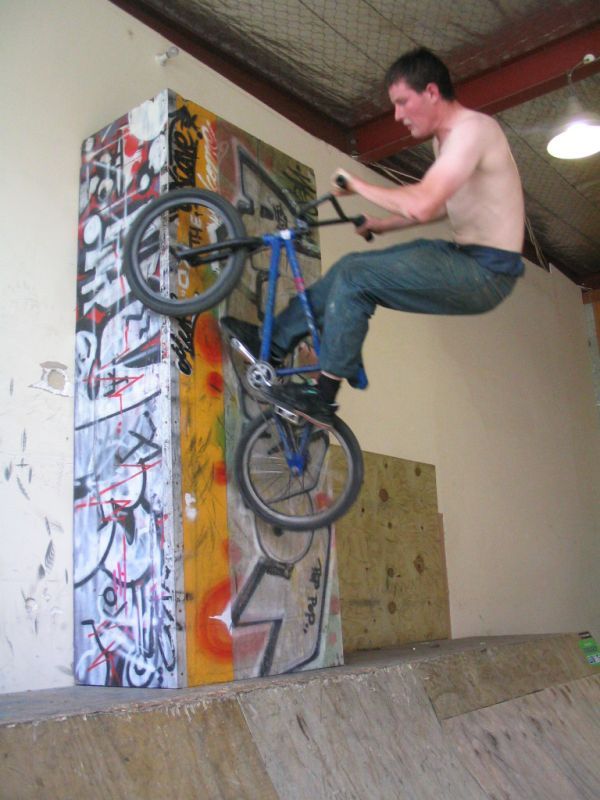 Mark, Smithstall I guess its called.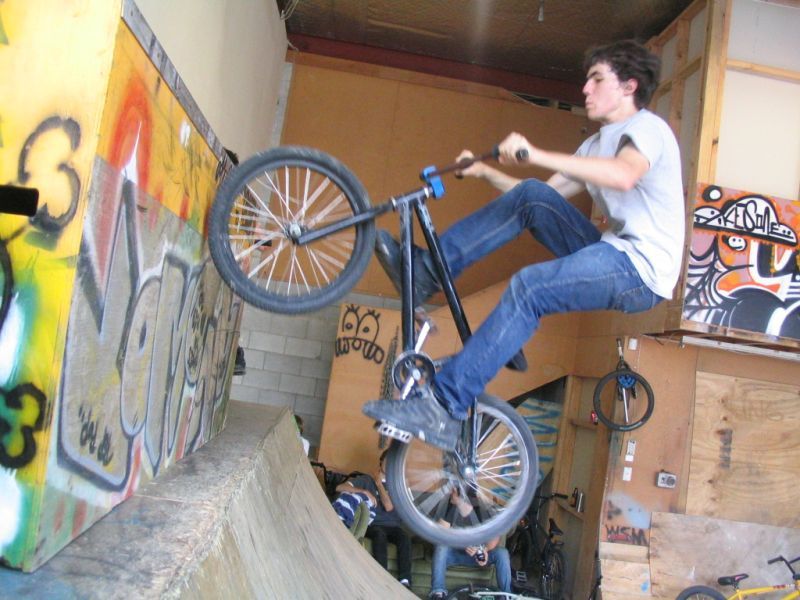 Louis, Footjam fakie I supppose you could say.
From there we made the trek back to George & Louis' house to get changed then buy some Alcoholic Beverages, where Billy
bought alcohol for the first time ever...I don't know if I could survive with the drinking age at 21.
Then we headed to the doo, where quite a number of riders came out of the wood work to get loose.
I'm not going to bother posting all my drunken photos as there is too many, but you can check out all the pictures
from the trip here: http://photobucket.com/albums/a194/ryan_gray/billy_NI_trip/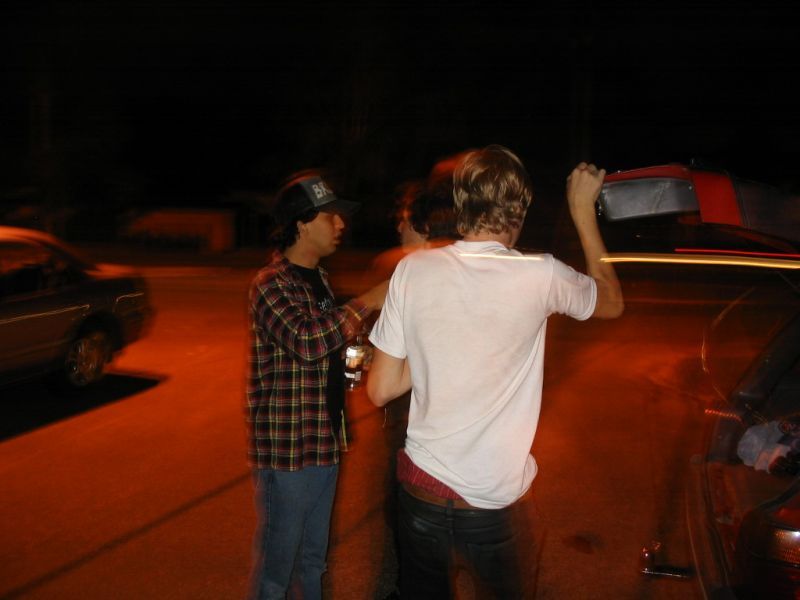 Alcohol trippp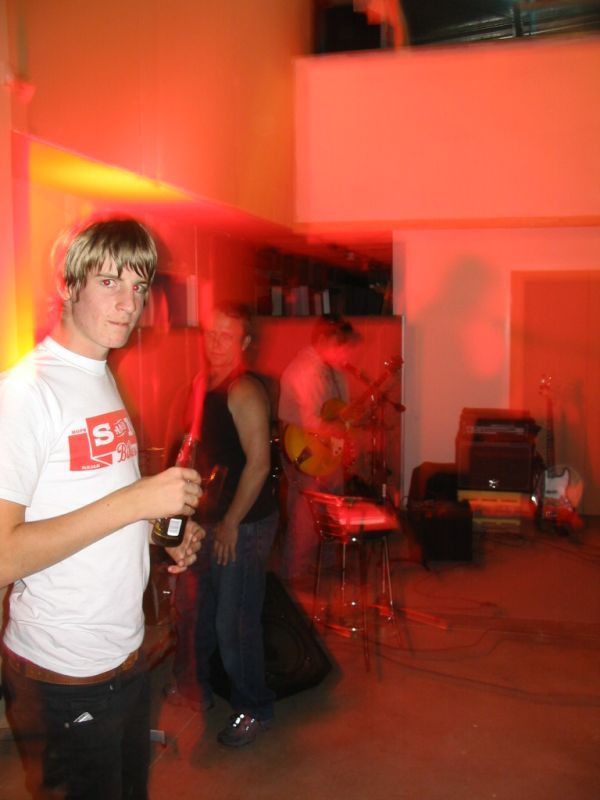 There was also a band playing cover songs there, but much to lukes dissapointment, no Slayer.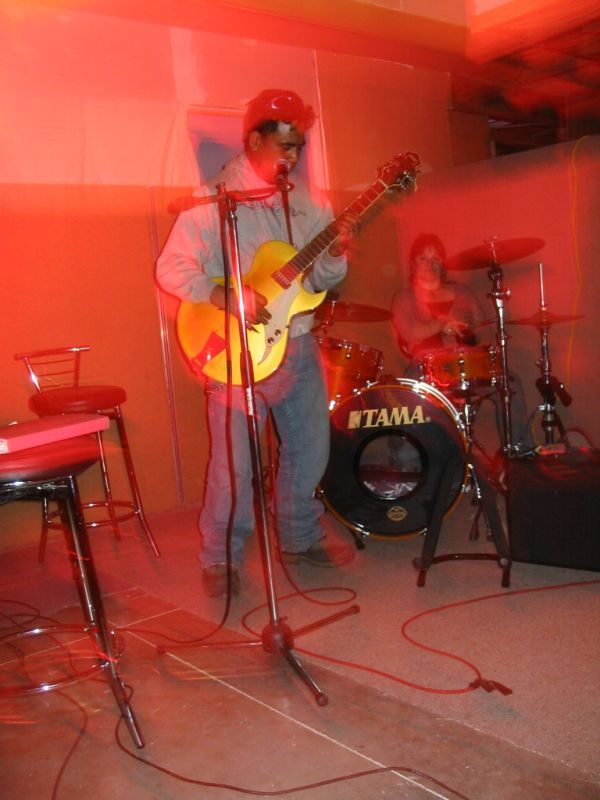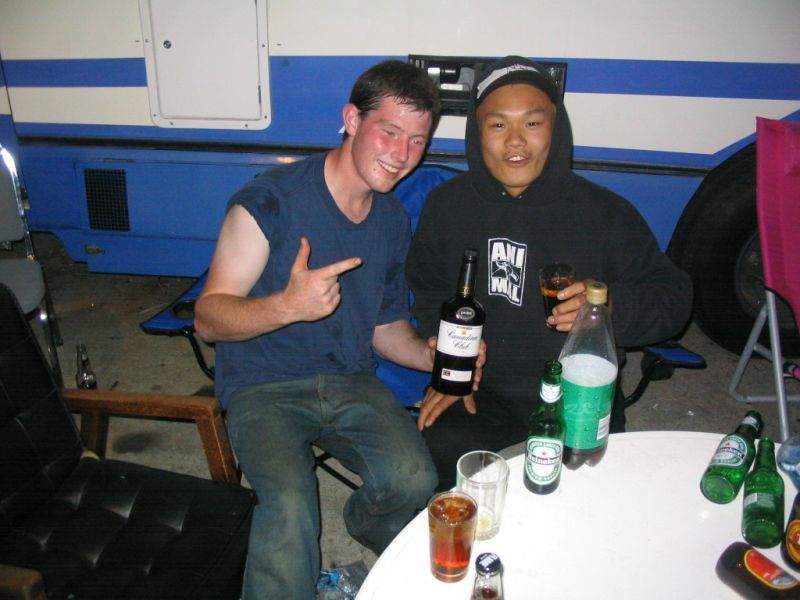 Mark & Itchy...Canadian Club!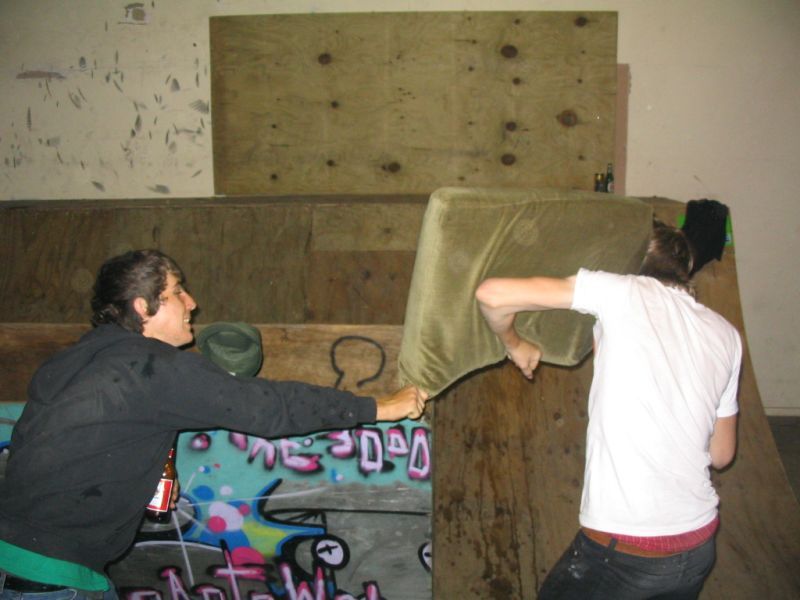 Louis demolishing Luke with a couch pillow.
Slayer?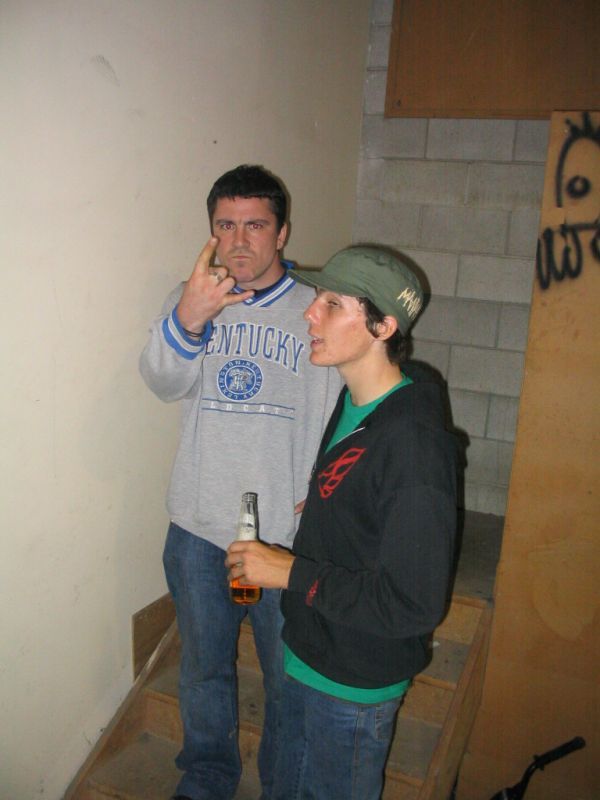 The Beast...Scot version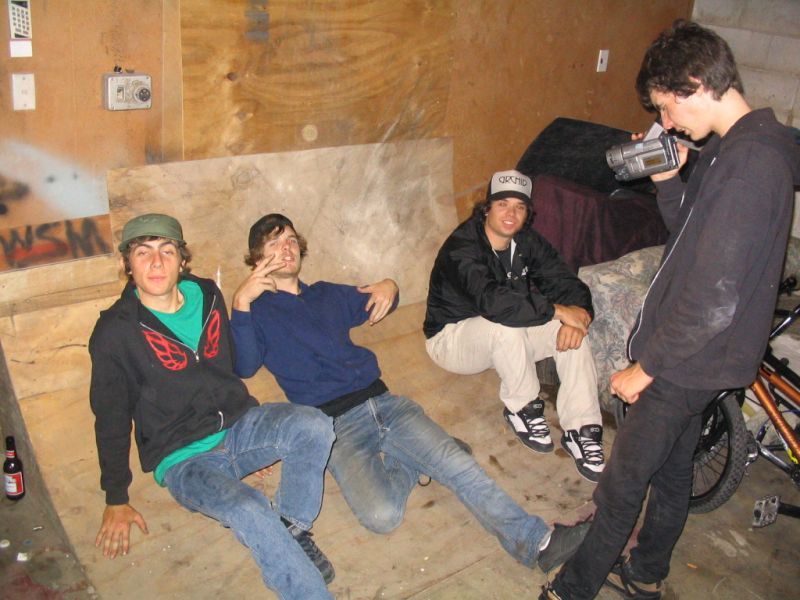 Fuck knows whos camera that was . . .but George was filming any and everything all night long.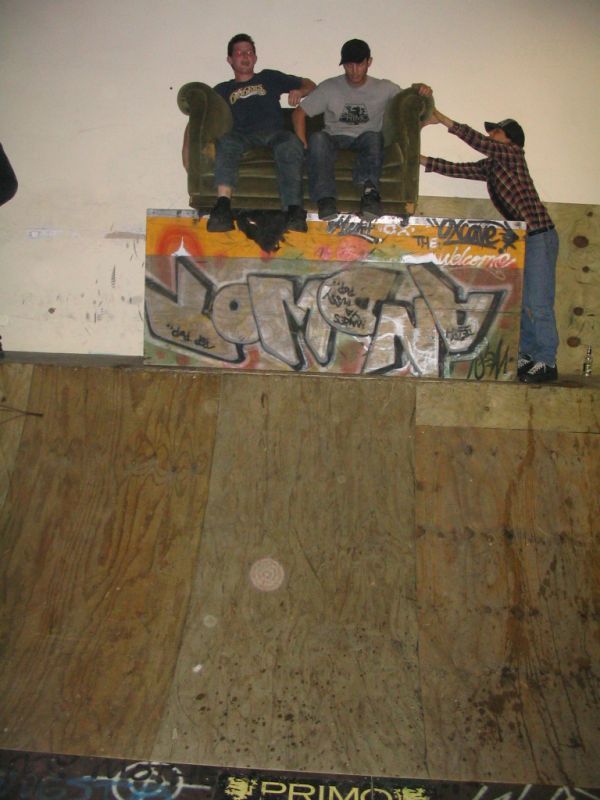 Mike & Mark up high about .3 seconds before disaster.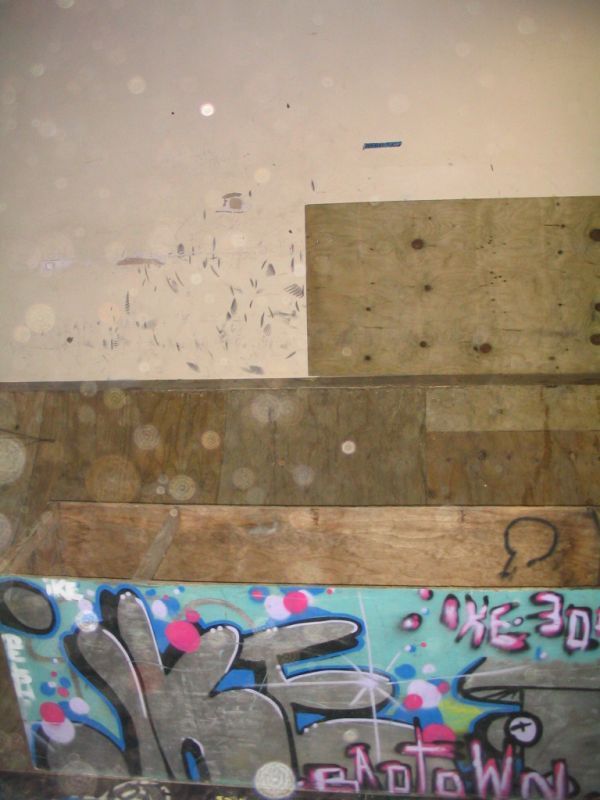 About .2 seconds after disaster.
I think I'm going to stop here for now, as its Tourist shit time!
I'll add more pictures are writing in this for you to waste your time away on when I get back on Sunday...actully, I'll probably add
it in on Monday as I'm going to be fucked by the end of this week.
-ryan
So I'm home now....so tired, but it was worth it.
Soo, where was I, arrr yes...Rotorua!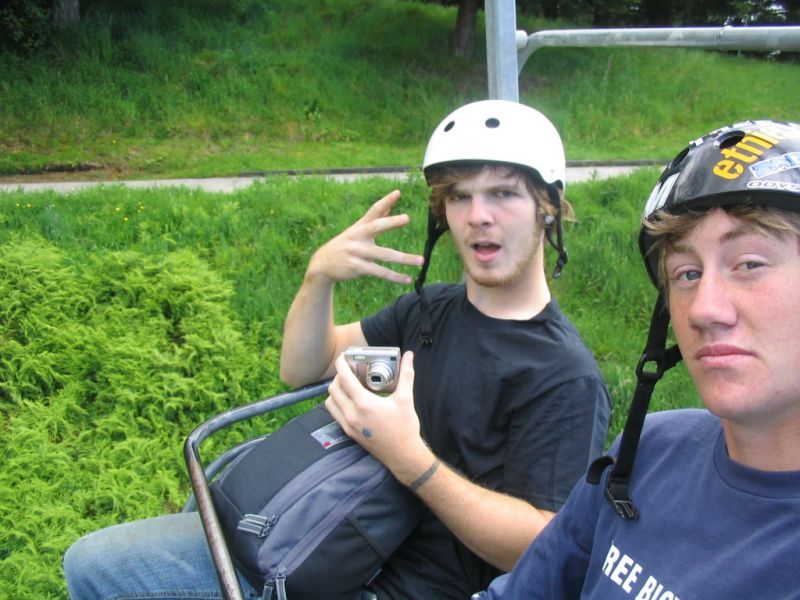 Coming up the Chairlift after luging.
In Rotorua we went luging, which was a bit of fun, Billy got beaten, everytime, and met a few walls.
From here we headed off to Taupo making a stop at the Wai-o-Tapu thermal wonderland, that place where the FlyBikes team went when they came here, and it was so rad...a bright bright green pool of thermal stuff. Amazing stuff.
From here we headed to Taupo skatepark, where Steven & Simon were already there rippin'
Simon, Invert. Photo - Steven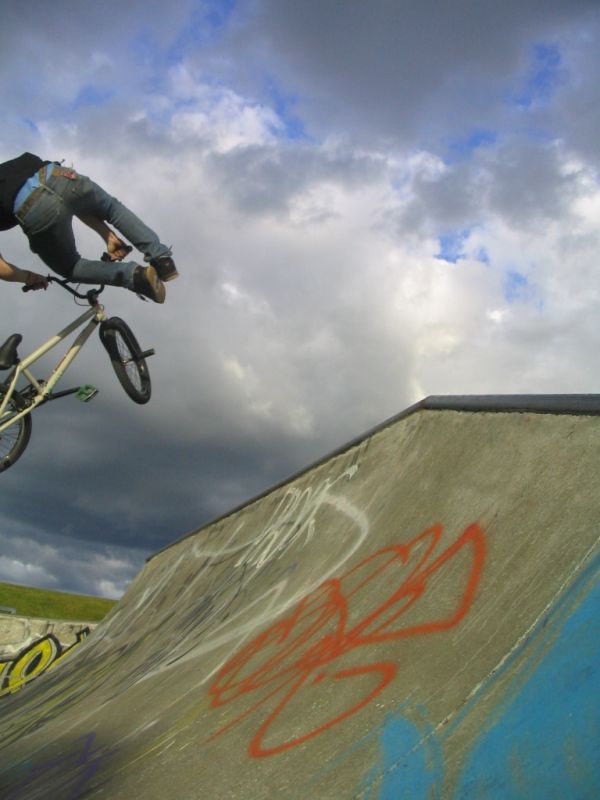 Billy, Tailwhip pedal to pedal. Photo - Steven
About 30mins later Jed & Mark turned up to show us exactly how to ride Taupo.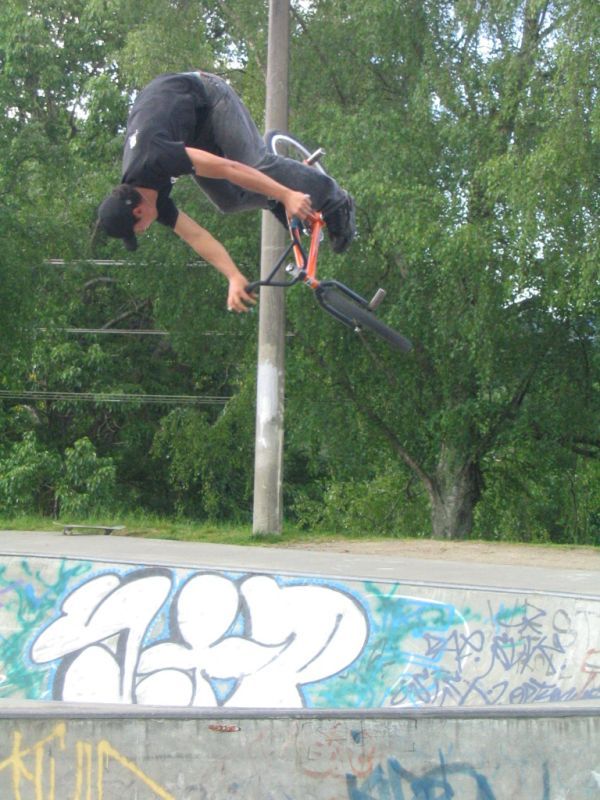 Jed, Stupidly High nosedived 3 over the spine.
Jed, One again stuidly high 3 table over the spine.
Mark, Abubaca up theeere.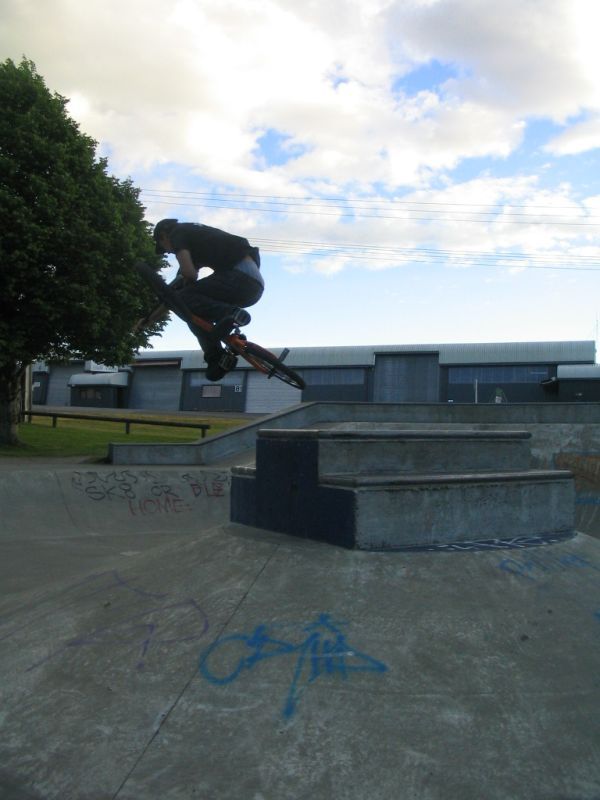 Jed, Table drop-in from the top of the picnic table thinger.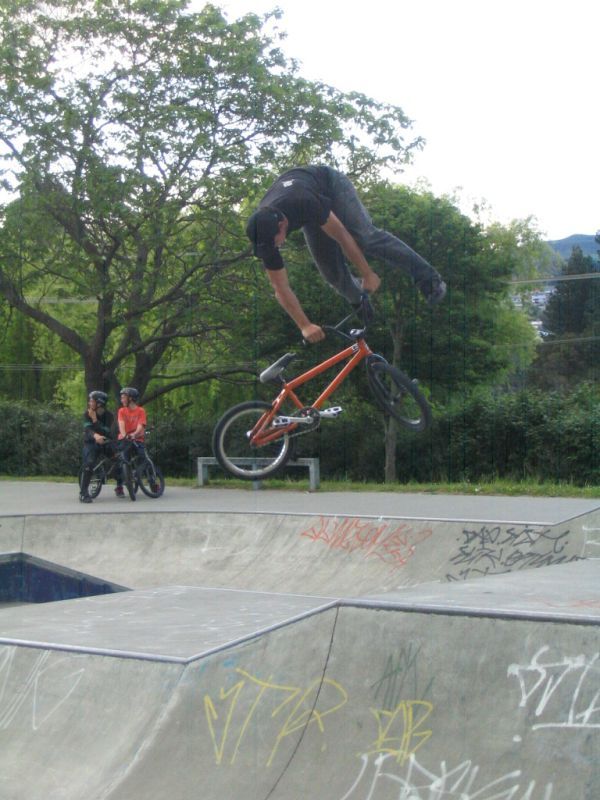 Jed, 270 tailwhip transfer.
After this the car decided to start playing up on us, overheating like a motherfucker kinda thing, and this was just as we were idiling, some oil and ater later it was driving a bit better.
We headed to Mark's house for the night, we actully went to this crazy thermal spring thing that went into the Waikato river...it was super rad.
Next morning woke up, headed to the bike shop to get a new chain for billy, then hit up the skatepark for one last final ride then started our trek to Napier.
About an hour into the trip the car fucked out, fuckin' piece of shit.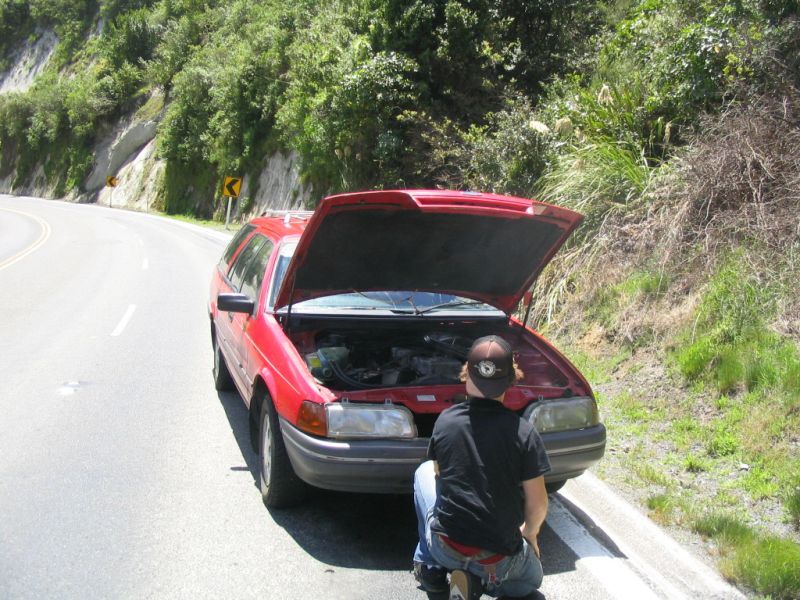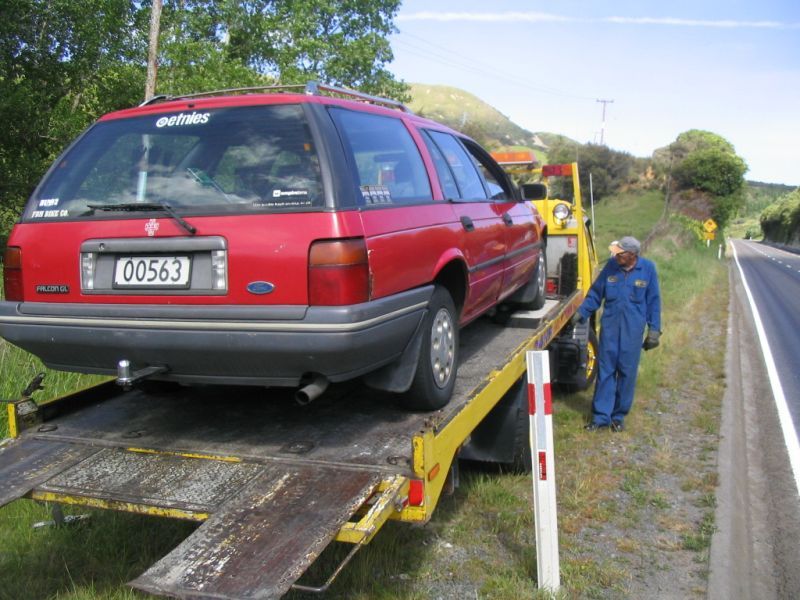 $200 towage fee later and we were in Napier, carless and just, sad.
Billy was talking about bussing it to Wellington and catching the earliest plane home, I just wanted to go mope in my own house.
Oh yeah, we also walked for about an hour and a half with 40kgs of bags to the place where we were staying...this place:
We more a less chilled around the tent for the night trying to figure out what to do.
Next morning we woke up and our host, Nikki started telling us about this good rental car place, $35 a day +kms or 4 days for unlimited kms.
We took that option and had a rad car with a reverse beeping sound!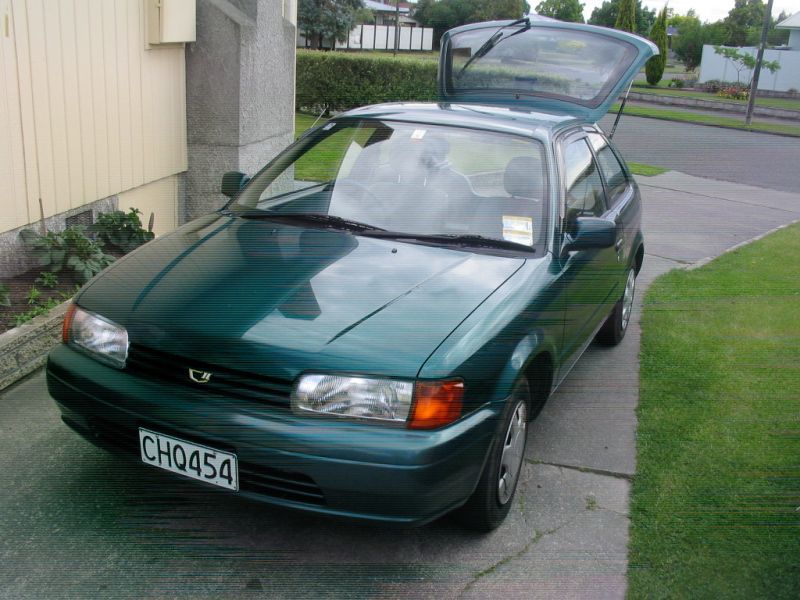 Then we realised that the car didn't have a tape player of FM Radio so we upgraded to this thing for free:
iPod muuuuusic!
So we headed off in a much better car, one that works, and was alot better on gas...and did mad hand brakies and front wheel drive skids! I love rental cars.
We stopped in at levin, Palmy, Waikanai and then headed to Upper Hutt to meet up with Timmy.
Had a bit of a fun ride at Upper Hutt and watched Nathan click everything one step too far.
So Billy, Timmy and I woek up at Tim's on friday morning ready for wellington and all it had to offer, to Onslow bowl we went!
This place is probably most known for people carving round mouds out water and rubbish in the middle of it, its a pretty fun place, but only for going fast...brakeless sucks.
From here we headed to Pourua (fuck I can't spell) for a ride at the Maori face! Belive it!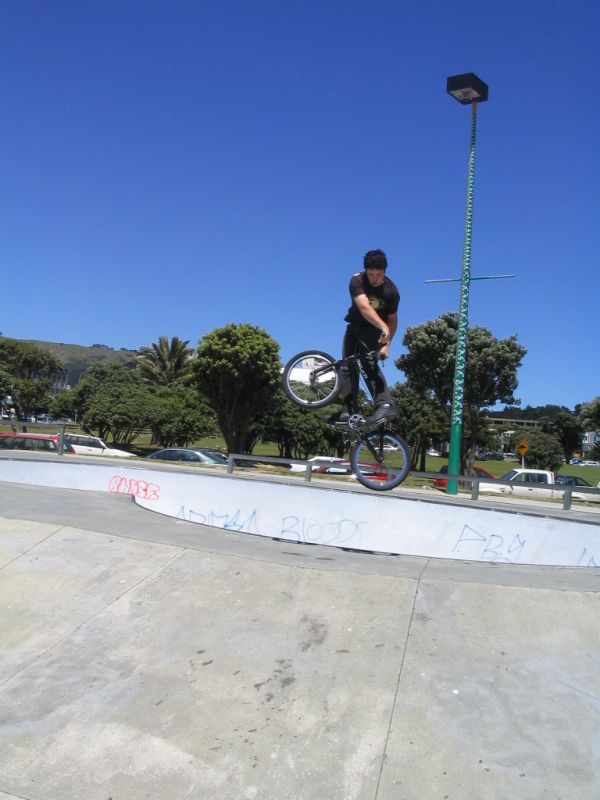 Tim, Turndown outa the small end.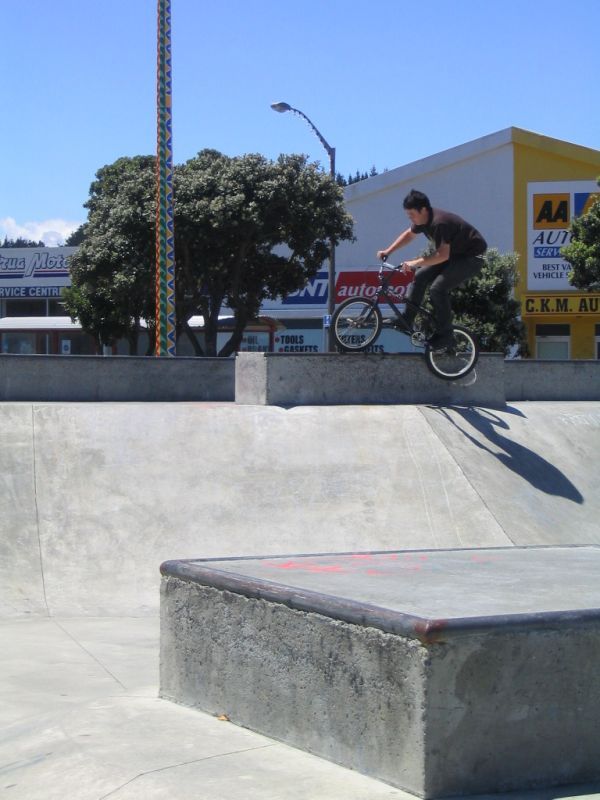 Tim, Feeble to crankflip out.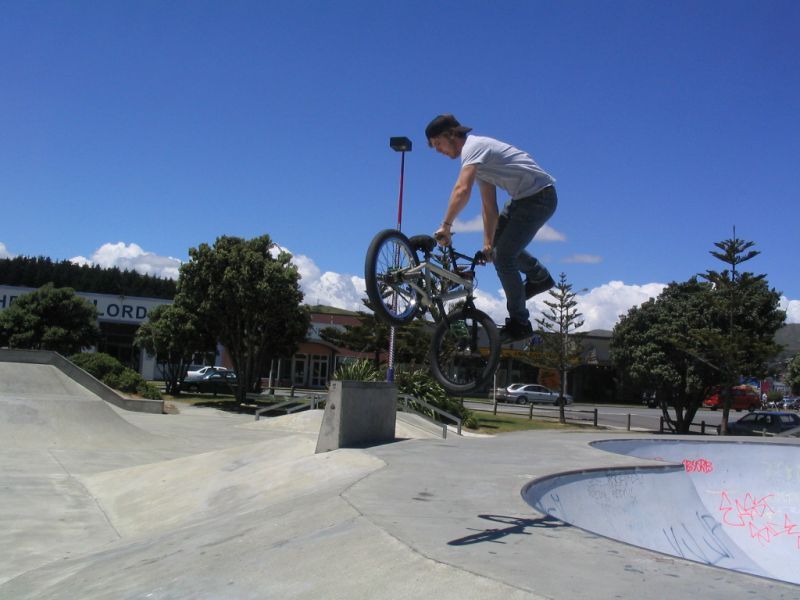 Billy, Tailwhip, pedal to pedal once again.
After we finished here, well, Billy and I were more a less fucked after riding and driving so so much over the past 7 days, so we decided to check out the Mall in this place, and after wasting $5 on instant Kiwis we left and headed to 'Holly Bagel' in wellington city, where Billy was introduced to L&P, which he said tasted like 'cough lollies' I mean, what the!
After a bit of a dash around town we headed to Upepr Hutt to ride and sort out the nights festivites, i.e getting drunk, and causing shit.
- - -
I will update this section a bit more when I see some of billy's pictures that he has.
- - -
Next morning, woke up, not hungover thank fuck, and headed to...actully, come to think of it...I can't quite remember what we did, ah thats right, we mucked around for a wee bit, met up with Jeff and headed to Island Bay for a look-see...caught up with Tom, and saw the trails . . .they were so much different than what I expected, but at the same time fucking awesome, I can see that they've put in alot of shovel work...oh and Tom, that fucking firecracker bomb had my ears ringing for 30mins..my ears are pussy's.
We then headed out to the Airport so see Billy on his way, well, we chilled with him untill his boarding time, said our goodbyes and I hope I see him again some day, hes a cool kid.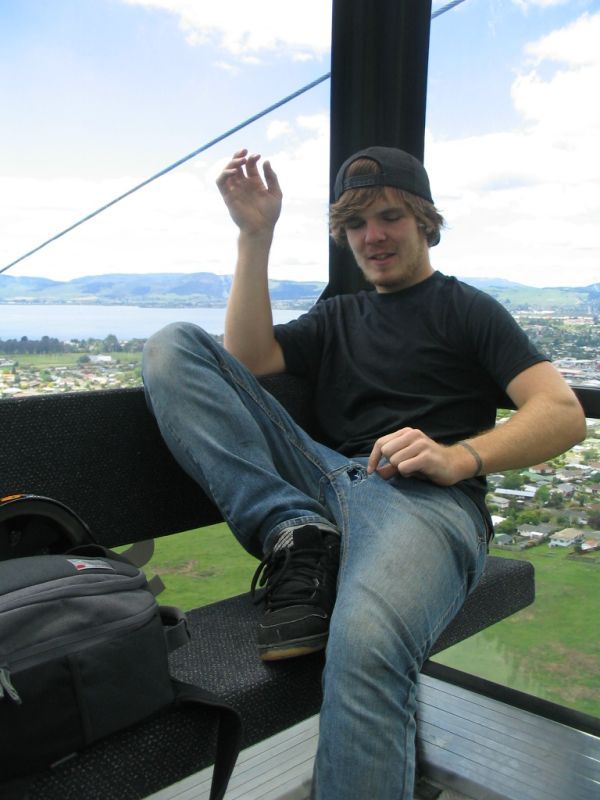 We all know what thats for.
Saturday night I basicly ended up having a more mellow version of the night before, but had a good time again.
Thanks go out to Tim, James, Mark, Louis & George, Luke, Jeff, Nathan, Jared, Tony, Steven, Lou, Mel, Nikki & definatly Billy.
And anyone else who rode with us, gave us a place to stay or spiked my water.
It was a fucking fun trip, met new people and had a good ole time.
-Ryan