Actully, this has nothing to do with happy new year.
As I'm bored I figured that I'll post up a couple of pictures and write out all the prices for everything, so here goes nothing:
Tree Bicycle Co.
Tree Sprocket, 24-45t: $85
Front Hub : $170
Low Head Bolt for brake levers: $2
All Shirts : $30
Long Sleeve Shirts : $35
Hoodies : $60
RNC Mfg.
Titanium Regular Sprocket, 33 & 36t : $105
Titanium Lite Sprocket, 24, 25, 28 & 30t: $85
Titanium Bash Guard: $55
3 Peice Crank Set with Ti Spindle : $230
3 Peice Crank Set LITE, Ti Spindle : $250
Titanium Bar Ends : $30
Titanium Seatpost clamps : $35
Titanium Primo Spindle : $75
Titanium RNC Spindle : $75
7075 Alum. Euro BB : $60
6061 Alum. US BB : $45
RNC Stem : $60
Ti 9t Driver : $75
Ti Axel Nuts : $30
Solid Bikes
Solid Killing Machine U.S : $500
Solid Killing Machine Euro "KP Ripper" :$550
Hella Lite Bars : $80
Stem : $85
Death Grip : $12
Headsets : $85
Dead Memory
All Shirts : $30
All Hats : $30
Other products, Hoodies, Pins etc prices can be obtained by E-mailing:
ryan@prophecyBMX.co.nz
ManMade Clothing
Once again, all prices can be obtained by E-mailing me.
King Bikes
Blah de blah, E-mail me for prices.
Another bike check on my bike...I'm bored: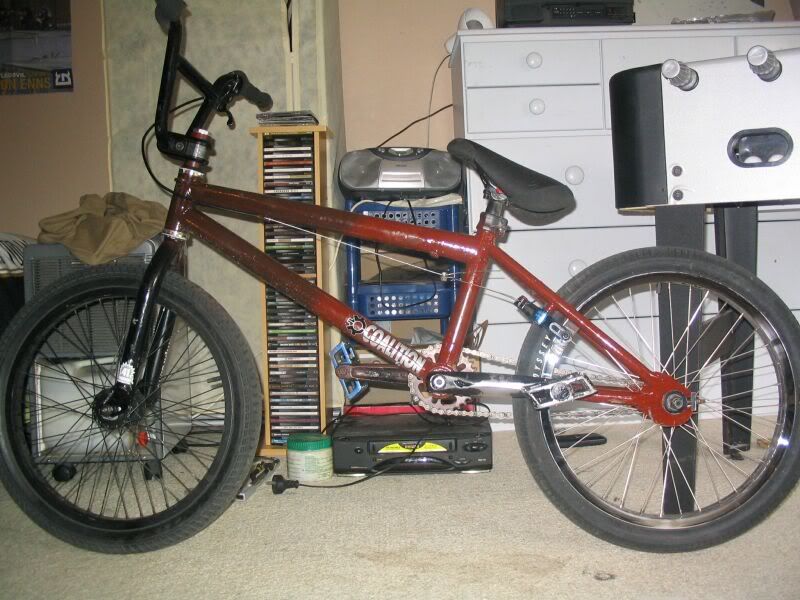 Frame: Specilized Vegas TRX '03
Fork: Odyssey Race
Stem: Odyssey Elementary
Bars: Solid Hella Lite Bars
Grips: Odi Longnecks/Solid Death Grip
Headset: Aheadset Tank
Seatpost: SNAFU Outpost
Seat: Primo Balance
Cranks: Specilized
Sprocket: Tree 28t
Rear Wheel: Odyssey HAzzard Lite rim laced to an Odyssey Cassette Hub with Swiss DT spokes, also an Odyssey 10t driver. Odyssey Path tyre
Front Wheel: Some 48 spoke, 3/8th wheel I bought for 10 bones. PrimoPro Taj2 tire
Yearp.
Jared, Table, Shed7
Meh, thats enough to bore you with for now.
Check out these sites:
Catfish
BMXBOARD
Eat some Zombie flesh
Santa Mosh Bitches!
Yeap, feel free to chat me up on MSN: ryan@prophecyBMX.co.nz
- Harvard sticks