I have truly been sitting in fron of this computer way to long , so heres a picture , a picture of ash cause he deserves it>>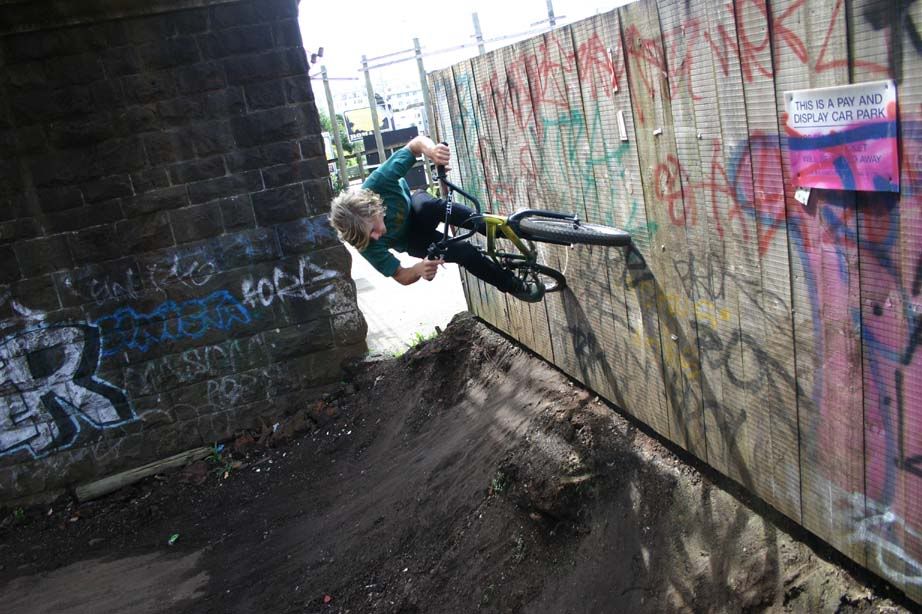 BAmm , later .. more to follow .. alot more ... tommorow
And heres tommorows.. here alot of pic so there just gunna be here for your veiwing , im sure u know who everyone is so enjoy , actaully ill put names your are an idoit... hah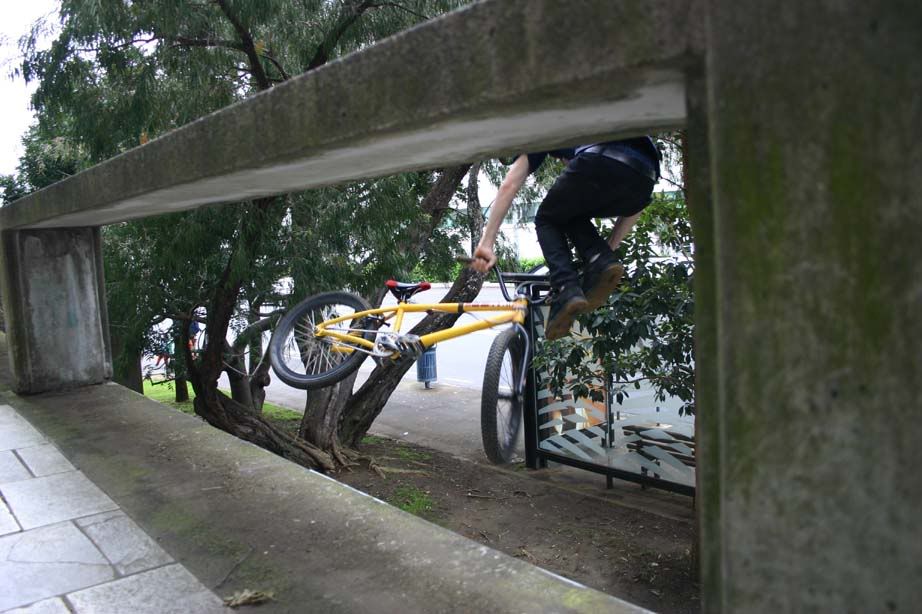 Get this cracking with george blasting a downside whip at the med centre 45 degree side ramp..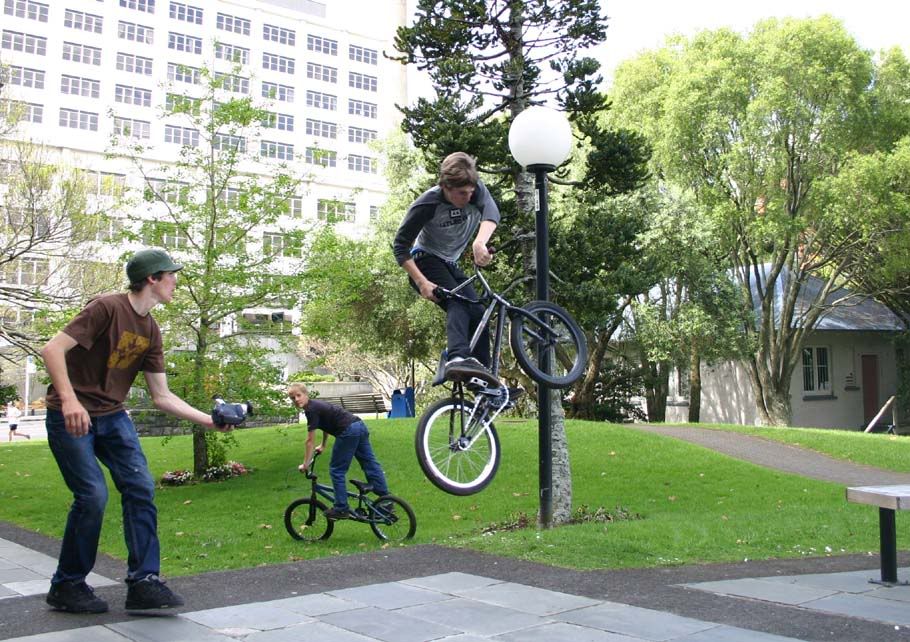 Ooo movie star?? ... no luke, turndown out of the med centre kicker..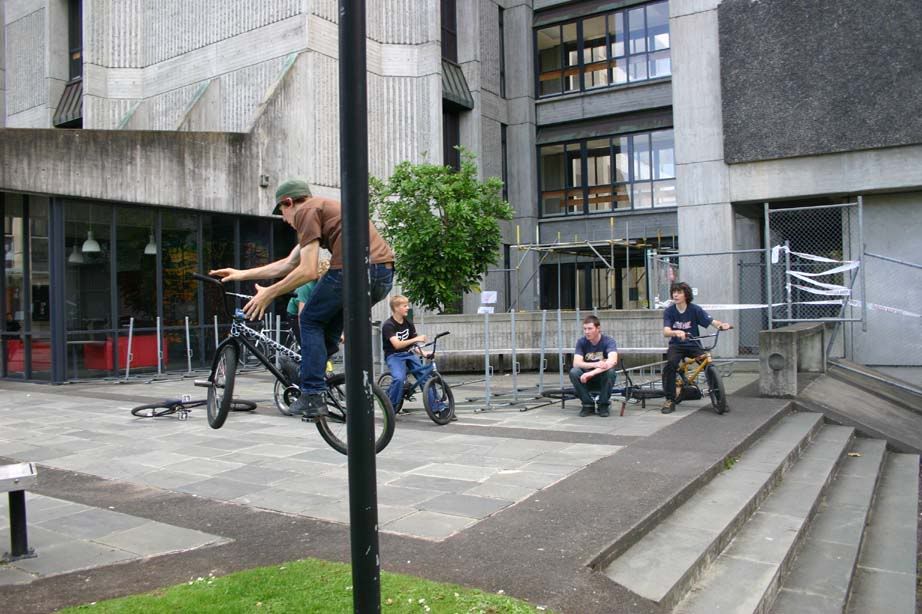 Louis barspin at the med centre..
Damn painting class now , update tommorow... ahah.. or sooner in photo class..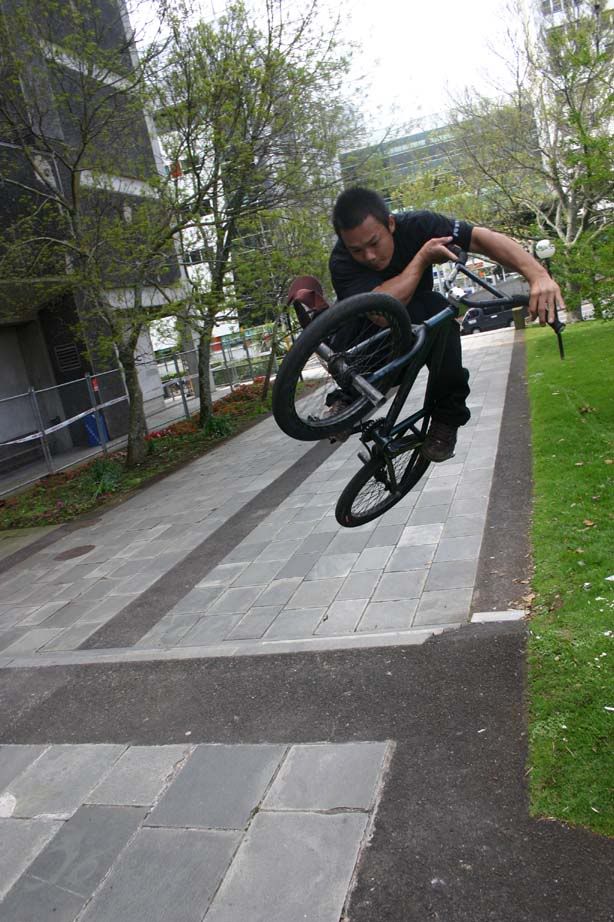 This guys name is itchy , itchy itchy itchy!! .. here staying for a year from japan with his friend takashi , street table at the med centre ....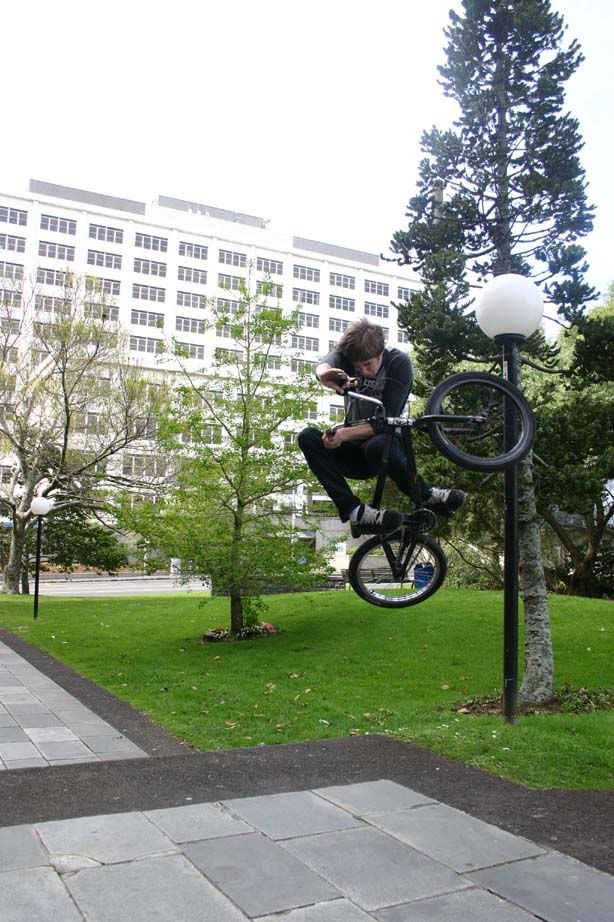 Che to ash for taking this and some others for me , luke who is me table at the med centre..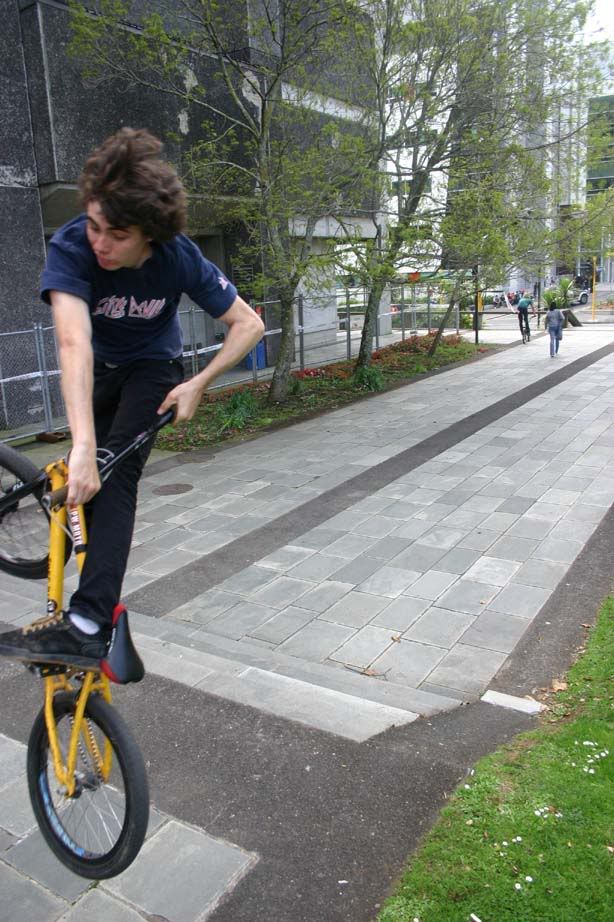 Getting a bit arty in this shot or was i just to slow , no i am master photo muahah , george turndown at the me..... u know where..
Beleive it or not the med centre was actaully the last of our stops , we got kicked out too mnay times , like 4 places ... ahh shit i had a pic of us chilling with the man in blue.. but u can imagine, --too my knowledge i think steve drain might have hit up this rail but until now weve only sat and looked at it .... louis and ewok ate some shit for the tem dion this kinker before another guard kicked us the fuck out...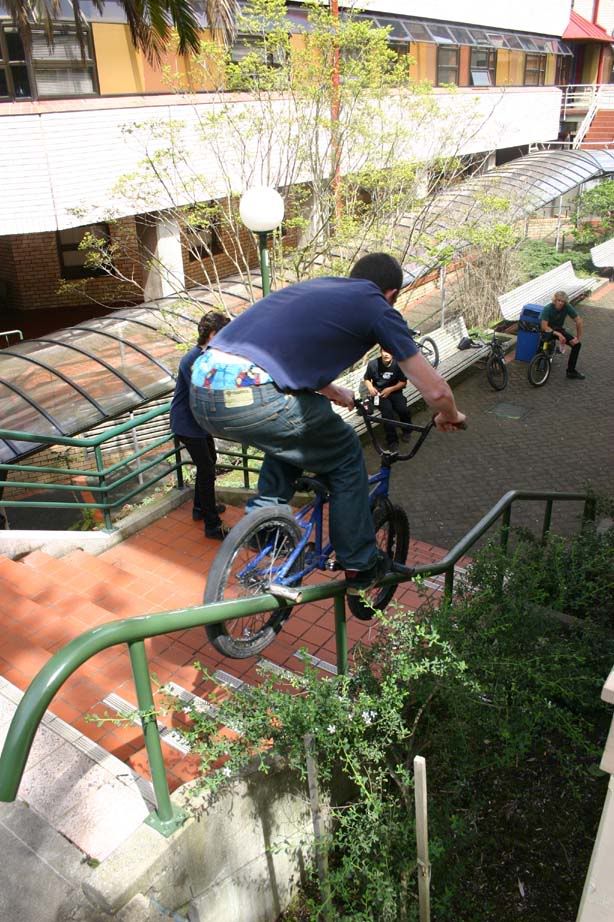 Ewok master ... first kinker for him i think? a decent one too..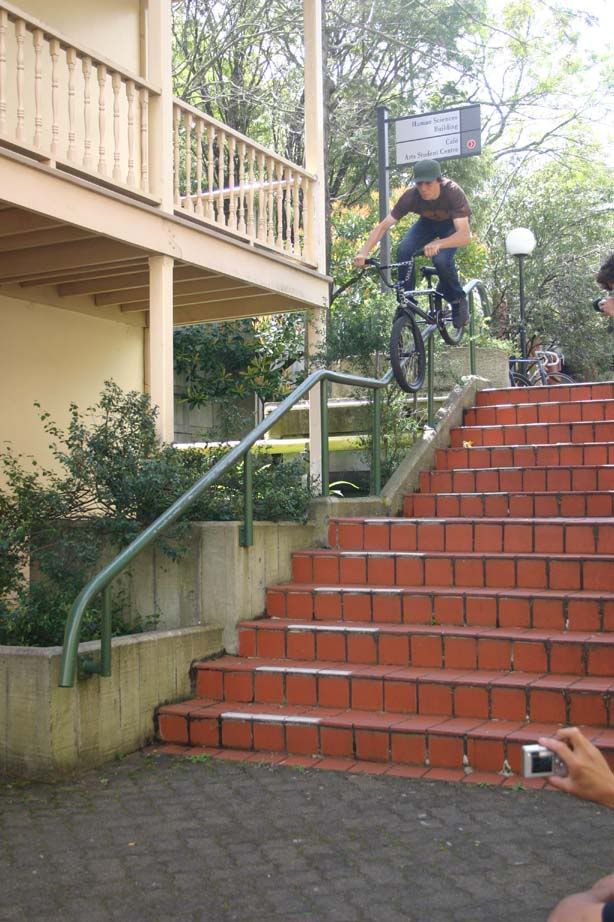 A different angkle to give u an idea this rail is A , OK ... louis decided to hit the real streer and take his brakes off for this ride..
In part if the day we hit up the wallride that was featured in hellraisers but had a nice makeover , by nat and justin.. also where ash had his debut at the start of this post..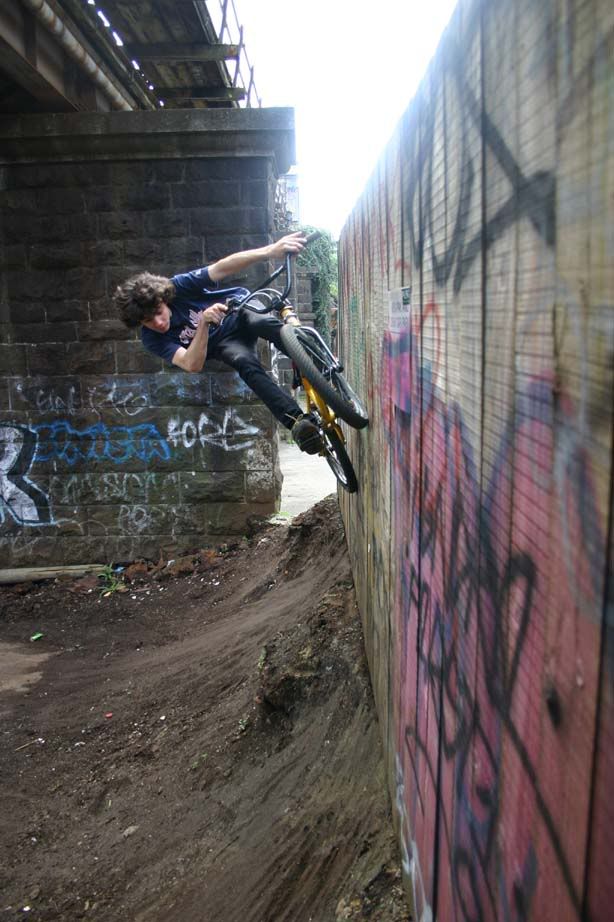 This may just remind you of a ... bah something that mike aitken taht someone said about.. geogre dion it..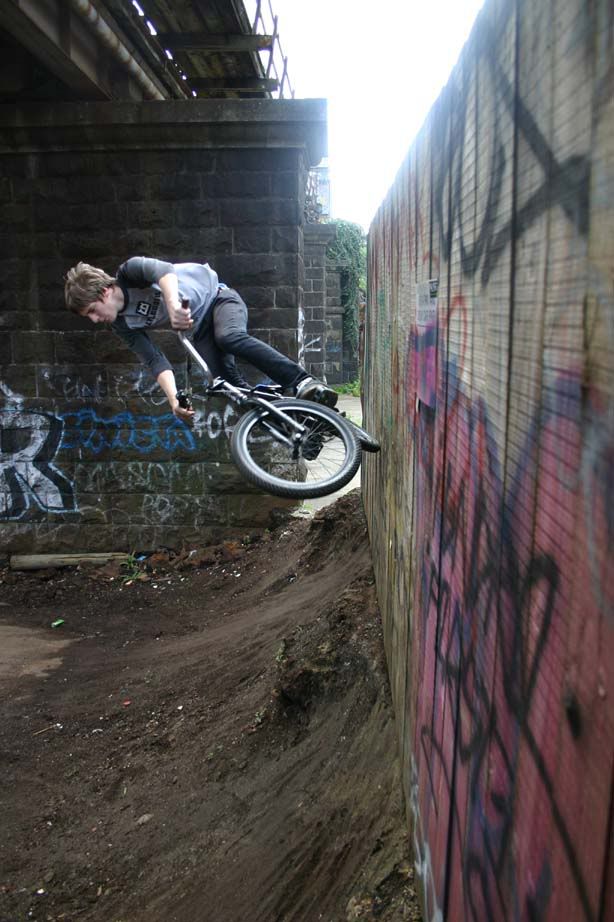 Yeee luke , by chance a wall manuel..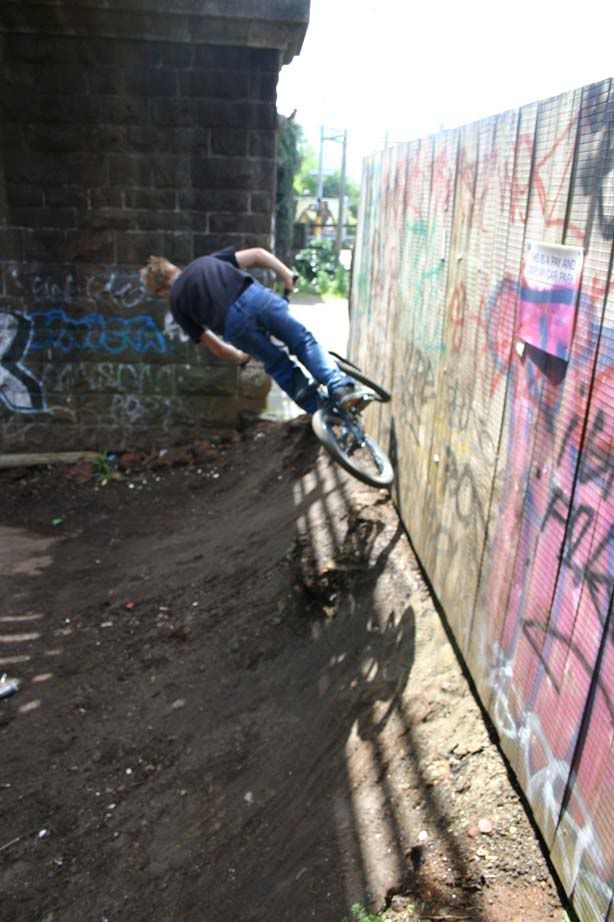 While sitting here i got a abusive email from this lil' magget , ahah sorry this is adam wall riding..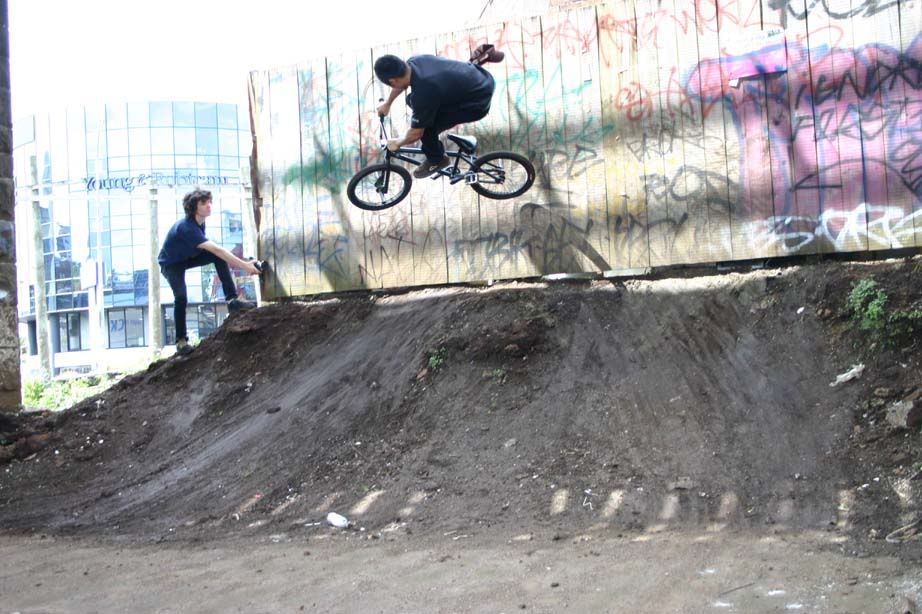 Our brother from another mother -- shit these comments are getting useless , Itchy crankflip out the wallride ..sick..
I wish i could remeber where we went in order but this was .. ahh yes the first .. or...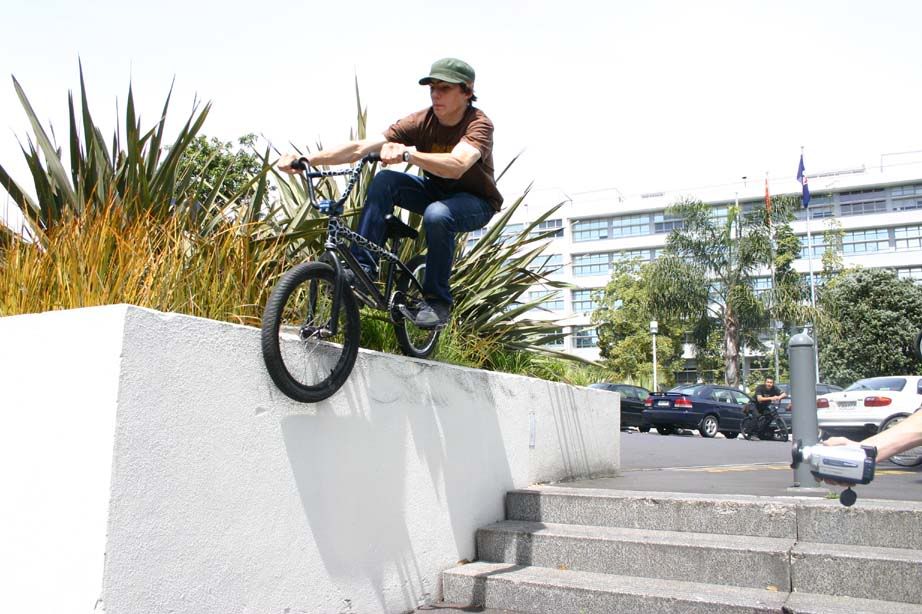 Louis Smith ...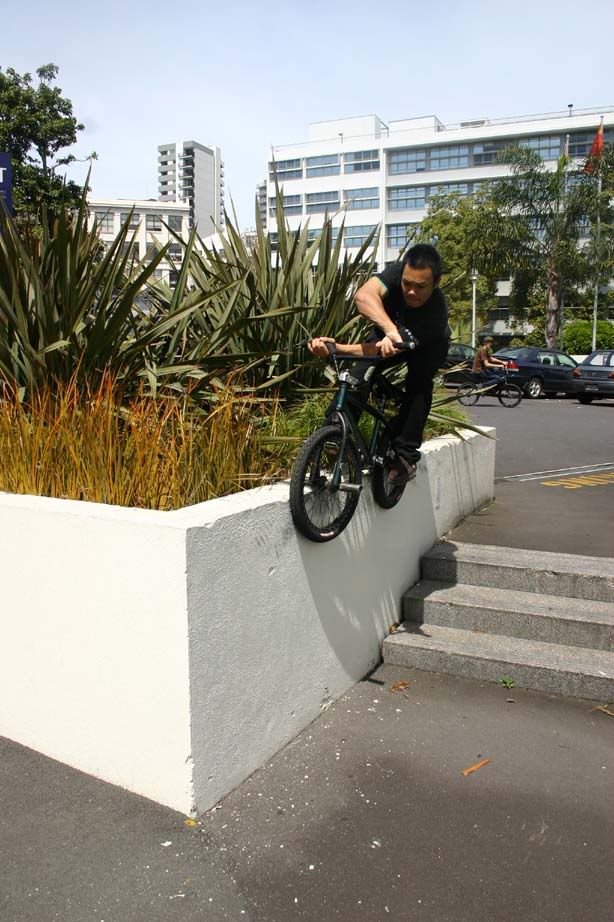 Itchy gave this a good couple of trys , but in thend he grinded his "asshole!" , X-up double pegger..
With that street ride over that was saturday over ... so with the trend of working in reverse , heres some shots of friday night..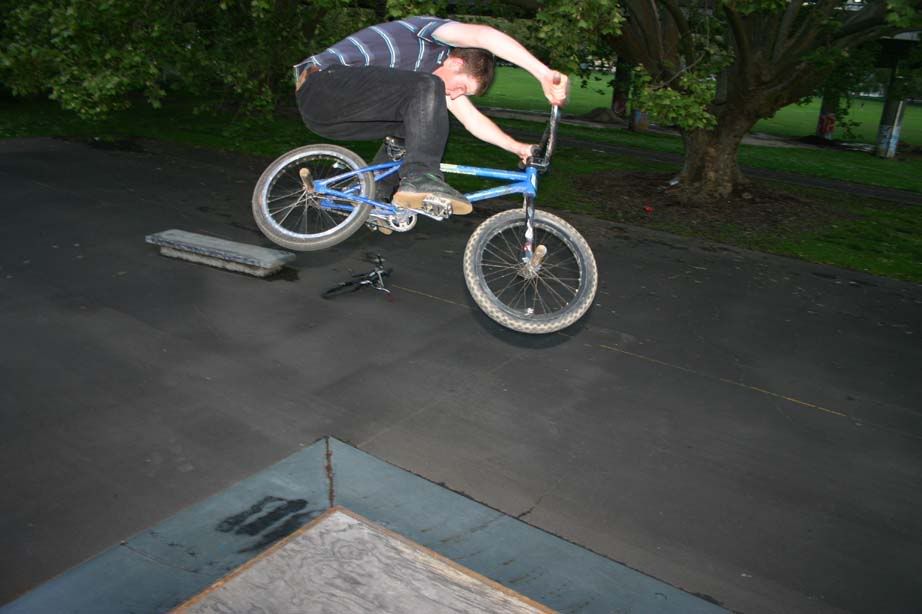 Ewok boosting viccies..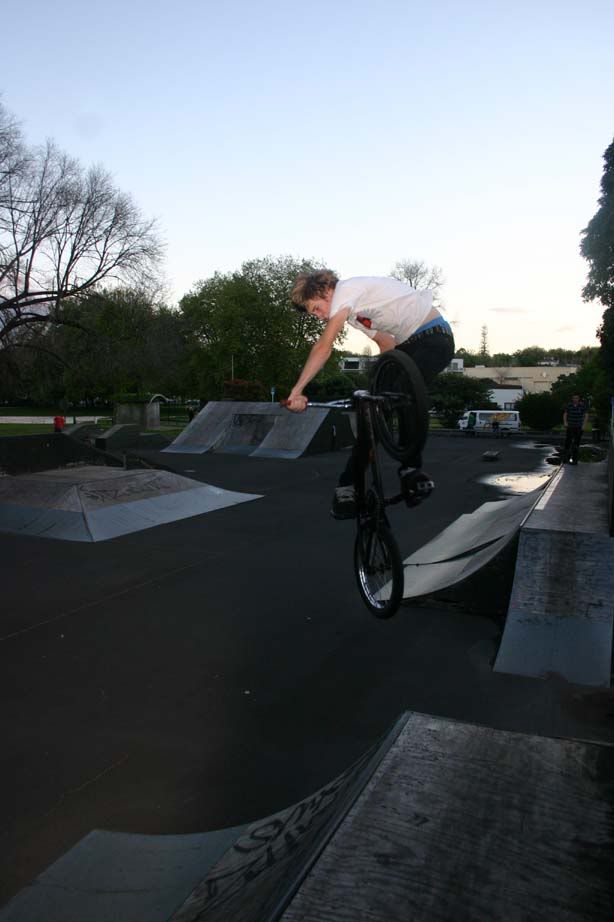 Luke turndown into the night...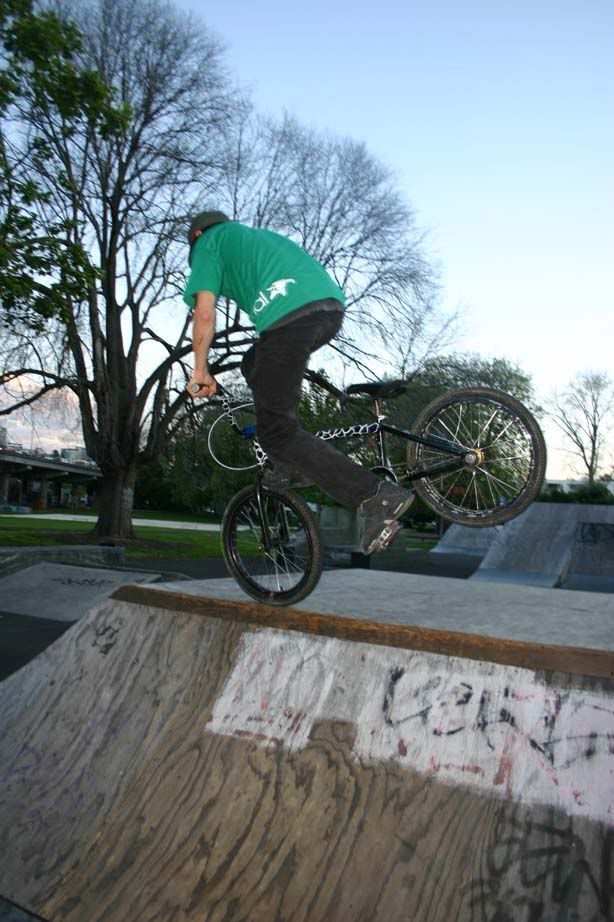 Two people took more than a few pictures trying to get this to look good and actauully see what louis is dion , but u still dont know , its a can can foot plant..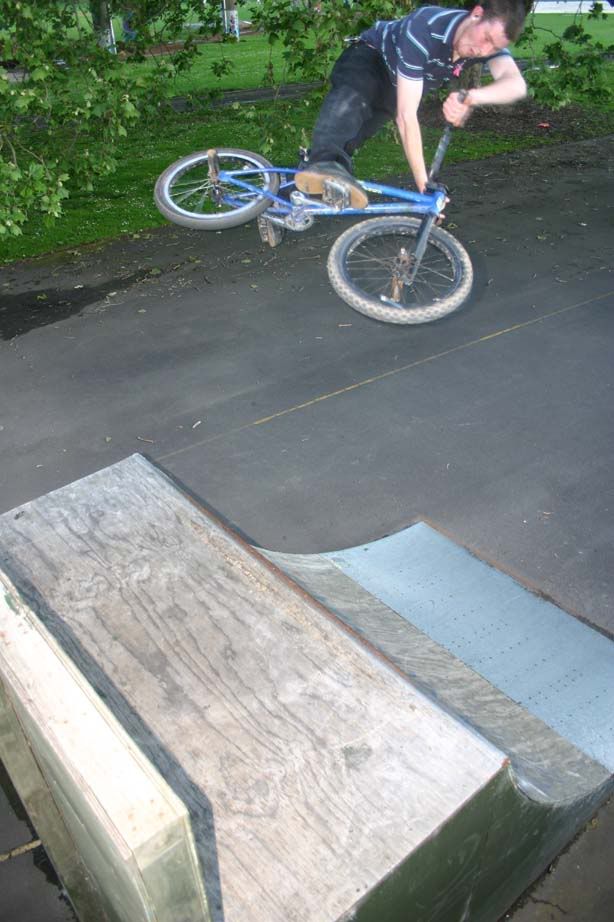 Whoa what a big picture update , the Ewok (mark davis yellow phone) makes another space.. x-up air viccies..
This is loose , be warned... eh.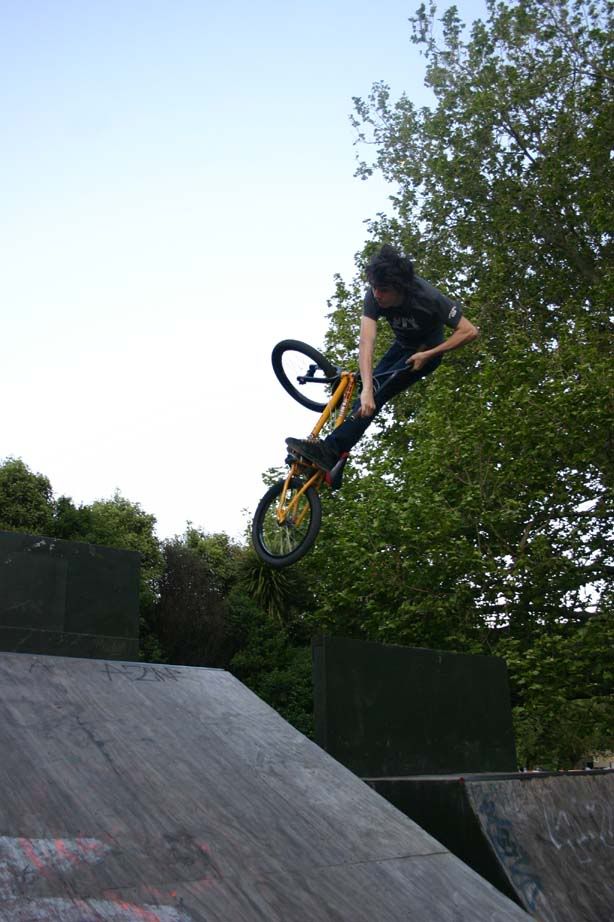 Geogre -"lets see if i can get it really clicked?" , now thats what u call a turn bar , Omri style..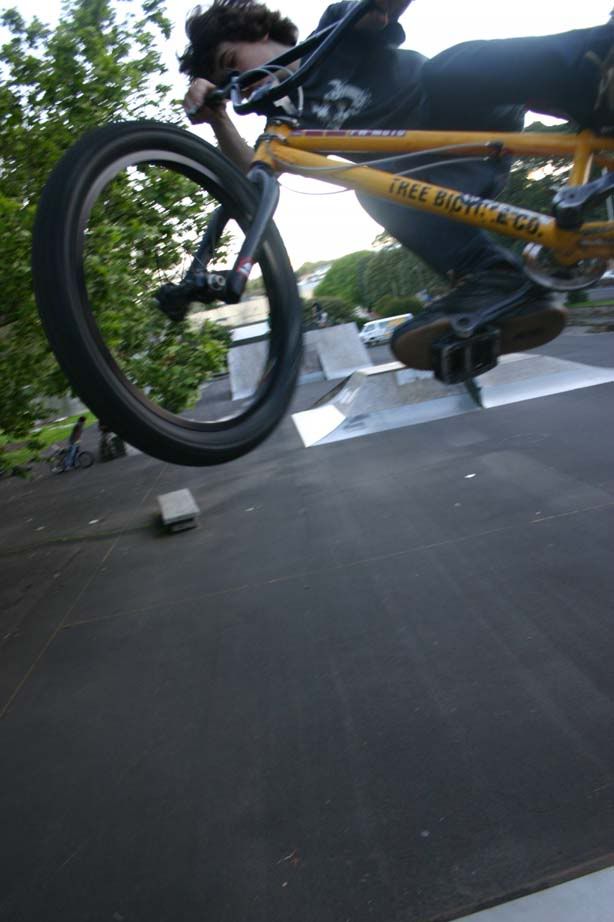 Lets get a bit Arty ... air george..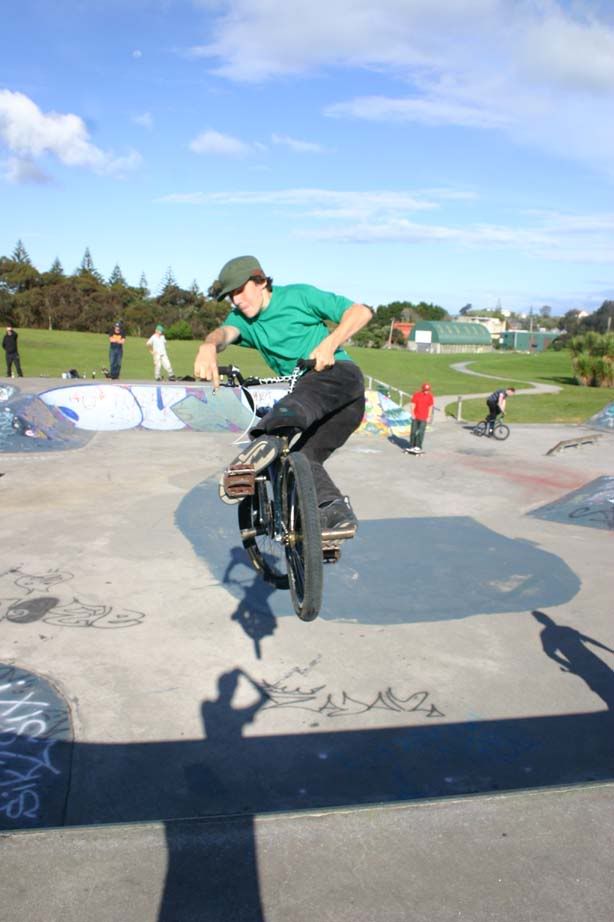 Louis , Opposite air lookback at devo ... well thats it people and i still have 30 photos form the dirt jam to put on , all pearlas matey... This weekend mite be shaping up to go to Whangamata , to ride calebs trails .. and i think he has a L.A.F so we can double team the euro bottom bracket.
Mike D is goin to austraila tommorow or tonite so , hell hopefully have some Photos of aus parks (vic for life) that look all so rad on the net ... Ben stephenson lives there so he gunna hok up with him and retreive his girlfriend from canada..
Theres some news for you .. also lift plus is apparently not the best for you , according to pual moffat gym director , sportty , pink bike , street dog, no more mullet , guy who says "drink powerade!" ... News from the east is that nic still never rides and his car is packing 400hp , with twin chur-bros... ride man , stop house/keisina sitting .. u cant stop that orange frame from fading forever..
Well that was a rant on , like miked styles almost , except you can undersatnd english..
..Thanks for reading and looking ..
Later,
Luke M