Hey to all you people who actually come to this site ... A couple weeks ago a jam was posted over the net and i got multiple texts about it so , we thought .. yeh the hell outa viccies hahah. It was little over 5 weeks that i had broken my thumb and hand the pins taken out , so i was hoping my hand would be good , but it was too weak to hold onto the bar properly.
SonSkate Sucks , not like it was my fault???? Dont think tha pic needed to be there.
We left early to taupo at like 8 , so no doubt everyone was a little tired . Half the fun on a road trip with the rotos is yelling at people out of the window and stirring shit . The Demio Vs. the corona wasnt tthe fastest race ud ever seen , but she was a fair fight with ryan chuckin shit at them.
We stopped at putaru bowl for a ride and had a good session , putaru bowl is an old skool look but with decent trannies , all for made out for someinteresting stuff
Louis Onefott xup , Bout as fast as the demio Hahah
Mark the Ewok , tailwhip attemp .. to chin slap a couple tries later
Simon Blasting a invert on his BRAND NEW ..second hand bike he brought off goegre, goegre finally let go of his oldskool SandM dirtbike
T-down into the sun , Simon Style
We made good use of the first sunny day that we had seen in a good couple months and some new stuff went down..
Louis CandyBar over the hip at putaru
The Ewok got trundowns more or less down at the bowl , they lookin good...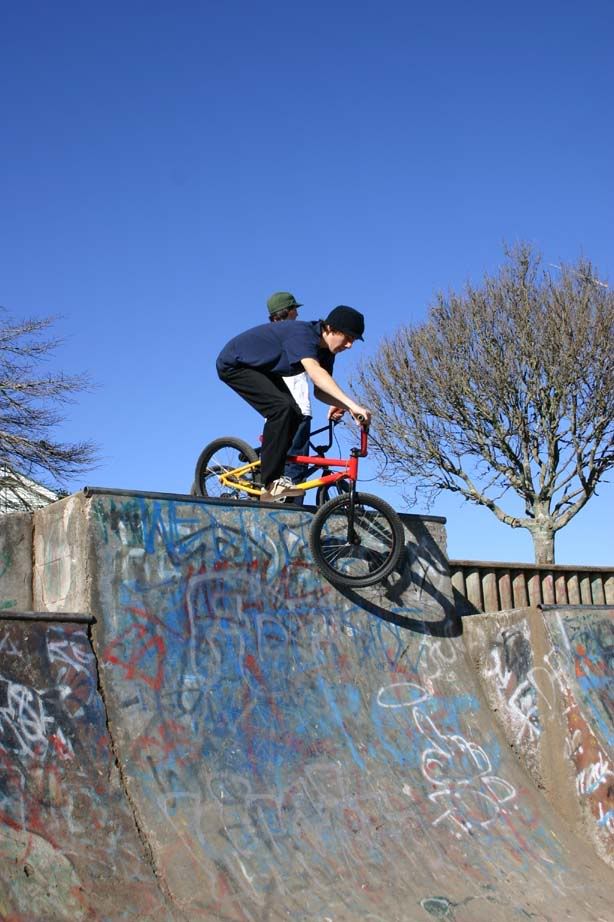 Disaster on the vert , 180 disaster that is...
Well id like to say i had pictures of the taupo jam , but theres wasent much of a jam more like and organised ride that only a few made their way over to taupo to ride. Just us Goegre Luis mark and luke , Simon ryan steven cody Rotoruas Finest , Caleb and troy from Whangas ... and some of gisbornes riders and of course Jed who turned up late to his own jam , mind u its doesnt matter cuase he tore shit up , bit on the wild side with no brakes aswell...
After a couple crashes , we decided on making our way home ... this time a 3 car train , so i tripped on to roto with cody , Leader of the pack , Superior only to the demio Hahah. The drive back was some what different considering codys car was the only car without a slayer cd in it , we proceded to listen to atreyu , untill we hit some road revontion about 100 t0 200 metres of gravel , so why not give it a little V8 supercars , Swirve..Swirve.. untill the back let loose , we were out of control dion snakeys , untl we slid 270 to a stop. She was a quite drive back from there..
..There was only one mood anyone was ready for and taht was drinking , Simons house went off . Into the night everything was played from led zep , maiden...fucken evrything ... but the time come when its was slayer lined up , big 5 person handbanging recital of angel of death start to finsh , good shit...
Ryan photo.
After we rode the rotorua trails , built and maintained by the council and with different sizes varies from pretty decnt big 6 pack and bit bigger than box jump size 6 pack .. everytime they get bigger and smoother , thanks to the race track owners and the council ... Auckland are useless for this kinda shit.... Anyway this is my half of the update from the Taupo JAm , Ryan is underneath this post , so check it his version.
Also mikeD Unit (
www.zombie-flesh-eaters.co.nz
) is gunna set up a photo zine for NZ riders , wether its gunna happen sooner or later send him ur best pictures at
bmx_is_rad@hotmail.com
It would be a crime to leave my 5 cent collection out of this , Elegantly modelled by Slayer hell awaits Vinyl ,
Chur
-Luke